There are many types of treats available on the market, and today we'd like to discuss some of the pros, cons, things to watch out for in each type of commonly found treats so that you can select products that are best suited for your four-legged friend. Let's get started!  Dehydrated Treats This is the most commonly used process out of all the products we offer. Dehydration is a process of drying raw material such as meat and veggies under low-temperature air to remove moisture. The result of dehydration are gently cooked treats with condensed nutrition. Depending on the level...
---
As most of us are staying at home to help reduce the spread of COVID-19, we're spending more time than usual with our canine companions. Our dogs can't play with each other at the parks due to physical distancing, but that doesn't have to stop you from exercising your dog. In fact, this stay-home period is a great opportunity to work on some training and bond further with your four-legged friend!  We invited certified dog trainer, Janice Lin, from Janice's K9 Training to collaborate with us on this blog post and help us learn some fun tricks to teach your...
---
Hopefully everyone has enjoyed made-in-B.C., single ingredient treats from the August Paws Bento box. This month's summer beach party box comes with a cute little waste bag holder. If you own a dog, chances are you will find a poop bag holder rather handy during walks, so why not do your business in fashion? ;) The hand-made waste bag holders came to us from Canadian boutique Butters & Bee and Sydney — the woman behind the brand who runs the show from design, fabric sourcing, cutting, sewing to packaging. The idea of Butters & Bee came with Sydney's excitement of...
---
Responsible dog ownership requires providing proper exercise for our dogs, both physically and mentally, and tug toy is a great way to achieve both in one go! Minute-to-minute play is one of the most intensive workout for dogs, which means, if you've got a little ball of energy at home, tug toys can tire them out quickly. Moreover, it also builds trust between the human and the dog, and builds the dog's confidence when you let him win. This month's Paws Bento comes with a beautiful French themed tug rope, each of them carefully hand-braided by dog mom Nathalie from...
---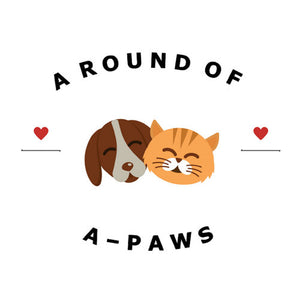 Pups who received their first Paws Bento this month may have noticed a chic little bowtie in their box. Did you know that all of them were designed, hand-sewn, and packaged by a fur-mom — Amber, from Toronto?     In early 2016, Amber welcomed a corgi girl named Abbi into her family.  She wanted to get cute bandanas for Abbi, but after strolling through neighbourhood pet stores, she had no luck in finding ones with the patterns or quality that she was looking for.  This is when the idea of creating reversible bandanas with bright colours and modern patterns for pets...